What it's really like to live under drone surveillance
I created illustrations for this news story for ABC RN, about the US Military's drone warfare program in Afghanistan. For Afghan civilians, the drone war is not an abstract issue. Many have lost husbands, wives, children, limbs and eyes to drone strikes. Researcher and PhD Candidate at the University of Melbourne Alex Edney-Browne collected testimonials from Afghan civilians, which I brought to life with illustrations. Produced by Natasha Mitchell for Science Friction.
Dear Unknown
One of a series of ten illustrations for a book of poetry by African-Australian poet, Kimberley Chakona.
Tonerpalooza II
The Suburban Review
As resident artist for Volume 7 of The Suburban Review, I created art for the cover and internal illustrations.
Suburban Review
Enroute
Full page illustration for Pencilled In
In addition to being art director, I create most of the spot and full-page illustrations for Pencilled In. This is an illustration for Issue Three.
The Lifted Brow
I was very excited to draw this illustration accompanying a piece by Ellena Savage in the thirty-third volume of The Lifted Brow. Long Live the Brow.
Invisible Cities
Advice Comics for the Lifted Brow
advicecomics is a blog where people can write in and ask for advice from a range of columnists and then get their responses in comic form. The comics also appear in an column in the best "quarterly attack journal", The Lifted Brow. Comics editor: Marc Pearson.
Mystic Maxie
Mystic Maxie writes a column about astrology and the *spiritual* side of things for Ladies of Leisure. Web editor: Tara Kenny.
Scorpio.
Aquarius, the water carrier.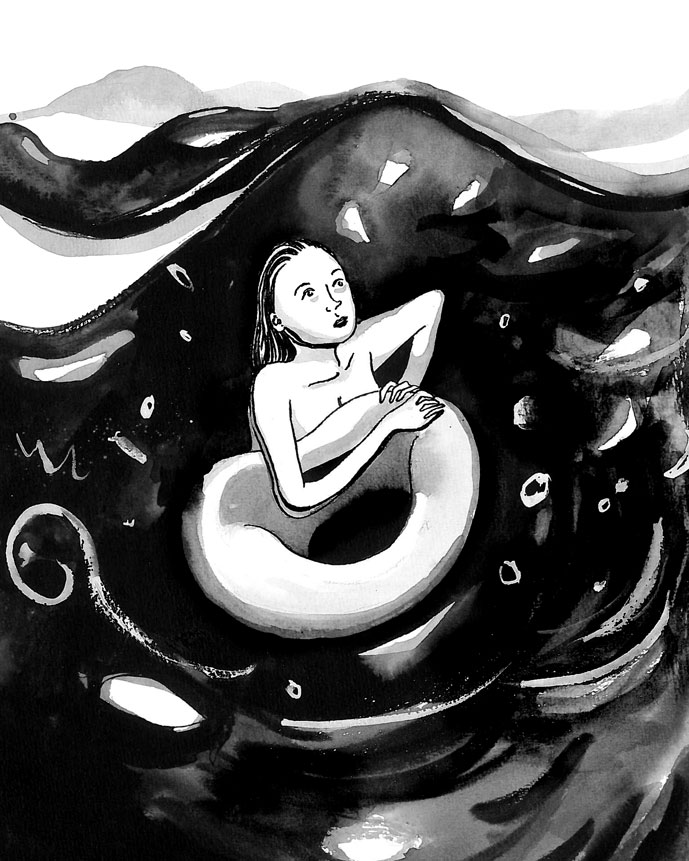 A Day in the Life of a Type One Diabetic